I was invited to attend the National University of Singapore School of Computing Speed Networking Session in January 2012, as an alumni mentor.
The structure of the programme imitates elements of "speed dating". Alumni will be seated at a small table each. At the start of the session, small groups of students will approach each alumni separately. They will chat with the alumnus on career-related matters for 10 minutes before the bell rings, and the students will then shuffle themselves to another table.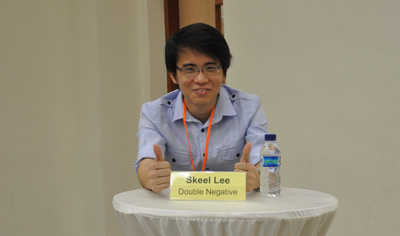 At my allocated table, waiting for the session to start
Within the limited time, I managed to share my 3 years of working experience in different roles in the visual effects industry, explained what different jobs have to offer, what kind of skillsets are needed and how to prepare for them.
It is encouraging to see enthusiastic students who are eager to join the industry. I hope my advice has been useful.
---