TenXion is a fast-paced, multi-player third-person shooting game done in the Singapore-MIT GAMBIT Lab, from June to August 2007. In this game, you either play as a damaged robot who is trying to escape from captivity in the underground prison complex, or as one of the four mutants, each with different characteristics and attributes.
If you are playing as a mutant, you get to respawn as any of the mutants at any point of time. You can thus get to play as all four mutants in a single game, and the choice depends on the situation that you are in. For example, you can play as the gigantic Tiny to block narrow pathways, or camp as the fast-and-furious Furioso to deal huge damage to the robot as he turns around a corner.
These interesting combinations of characteristics are specially designed to capture the complex behaviour and interactions between different players as they play the game as different mutants. These data will be logged and fed into an A.I. system for training. The eventual aim is to create a single player game where you get to play only as the robot, but with A.I. mutants that mimic very complex behaviours exhibited by human players previously.
We hope that this game will be the start of a series of games that are designed to train A.I.enemies for more interesting and complex game play in the future.

The game trailer for TenXion

A gameplay recording of TenXion
Back To Top

---
Objectives
This is meant to be a fast-paced game where players keep respawning as different mutants, thus the game play is kept very simple:
If you are the robot, run to the exit at the end of the prison complex, while staying alive
If you are a mutant, destroy the robot before it reaches its goal. Respawn as another mutant at any point of time to execute an alternative strategy.
Power-ups
Power-ups are scattered across the level. When a mutant collects three of them, its attack power increases. The power-up lasts for the rest of the round. The robot can pick up the power-ups as well, although they have no effect on it. This can be a strategy to decrease the chances of mutants obtaining three power-ups.
Back To Top

---
Robot
The robot is the main character of this game. It shoots charged bolts of arrows from its electro-magnetic bow which deals a decent amount of damage. It has been captured by the mutants for decades and has the chance to escape now after an earthquake has damaged the cell that it was caged in.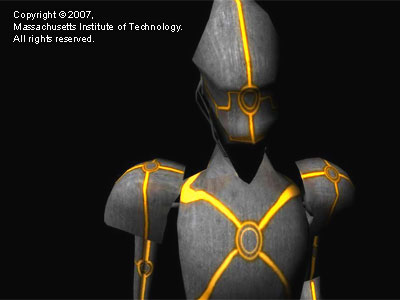 The Robot (main character)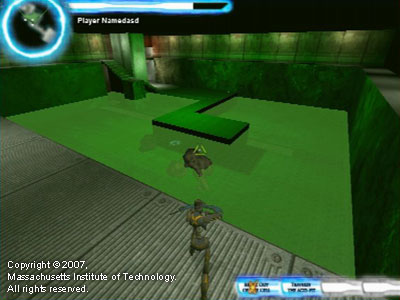 Aiming at a creature in the dangerous acid pit
Jigsaw
Jigsaw has its arms on its head to carry a huge and powerful missile. With its high speed and damage, this mutant is unstoppable!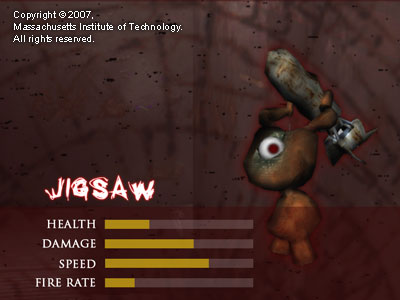 Jigsaw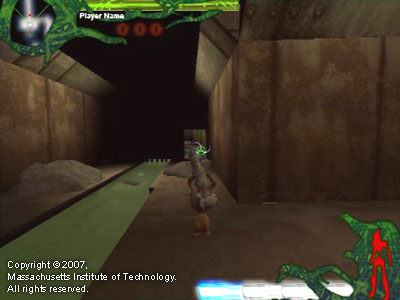 Jigsaw carrying its missle around, looking for the robot…
Slick
Slick spits goo from its mouthpiece at an extremely fast rate. He is quick and agile and is best suited to chase after the robot, till it is destroyed!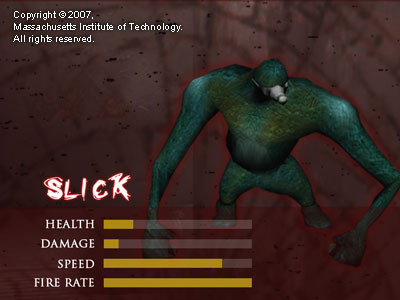 Slick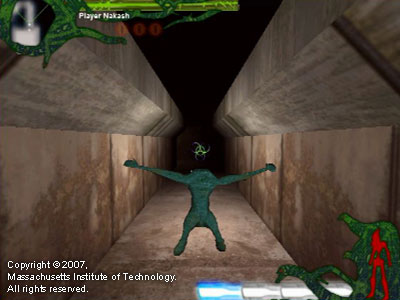 Slick stretching out its arms while making a jump
Furioso
Do not let its small and cute appearance fool you. Furioso deals an immense of damage when it blows up near you, so beware!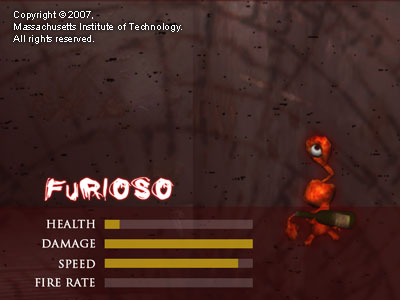 Furioso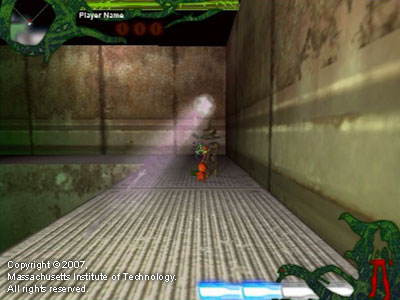 Furioso about to blow itself up in front of the robot…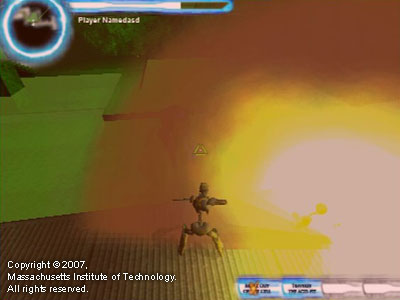 Furioso explodes right next to the robot!
Tiny
Tiny is a huge mutant made of rocks. His high health and damage makes him the best candidate to block the robots path and trap him into corners.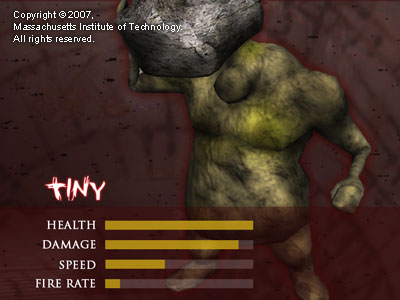 Tiny (what a suitable name!)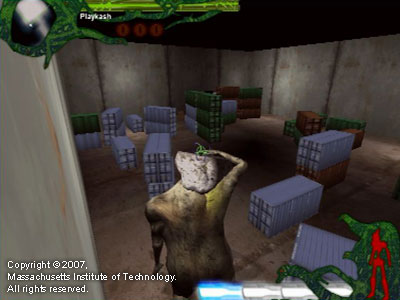 Tiny walking around in the cargo area, blocking the passage of the robot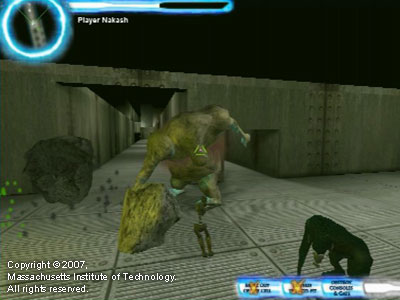 Tiny hurls a huge rock onto the robot while being shot at
Back To Top

---
Official gambit website which showcases TenXion:
http://gambit.mit.edu/loadgame/index.php#tenxion
Back To Top

---
From Singapore
Skeel Lee: CG Supervisor, Rigger, UI Designer, Programmer
Mohd Kashiraj Daud: Character Designer, Animator, UI Designer
Chng Chian Leng: Modeler, Texture Artists
Wang Wenjie: Level Designer, Modeler
Tan Dao Rong: Programmer
Fezz Hoo Shuyi: Audio Engineer
Guo Yuan: Audio Engineer
From Massachusetts Institute of Technology (MIT)
Mark T. Grimm: Scrum Master, Programmer
Alexander Chane Austin: Game Designer, Programmer
Laura Boylan: Lead Tester
Back To Top
---
---